1980, Armani Style:
"I want men's jackets to be sexy… I want to change the look of the men."
"It is true that I have always loved a certain discipline, a certain cleanness of line, but it's true that I also love to think that people dress to be sexy."
In 1976, after years of working as a freelance stylist, Armani presented his first collection in Milan. The designer immediately imposed an aesthetic that went against the masculine fashion of the time. The Armani style was characterized from the beginning by loose volumes, a restricted palette of earth tones, and an interest in fluid materials – a vision of masculine elegance that became his signature and that the creator was about to develop for a whole decade. Armani's approach to clothing, inherited from women's haute couture, perhaps made him the only couturier for men.
New materials in men's wardrobe
Moving away from the corseted suit, Armani combines luxurious materials such as cashmere with robust materials such as linennatural vegetable fiber of great solidity resulting from the More, Donegal tweedwoolen fabric, more or less rustic, woven with multicolored More, or cavalry twillwool or cotton fabric, tightly woven with fine parallel obli More. The designer also makes men's suits in materials that were previously reserved for women due to their fluidity: silkflexible and resistant thread produced by the larva of vario More crepes, velvetcotton fabric with a complex weave, it is composed of a simp More palatine, and synthetic fabrics.
Monochromatic and wrinkled silhouettes
The advertising campaigns, all signed by Aldo Fallai, show monochromatic sand-colored silhouettes. The volumes of the collections are inspired by men's fashion from the 1930s: wide pleated pants worn with long, unstructured jackets with very wide shoulders, not lined, comfortable like a cardigan, light like a shirt.
While Americans were developing wrinkle-free poly-cotton fabrics that require no ironing, Armani showed models dressed in wrinkled linen suits.
The Armani style is born, and the wrinkles in clothing become chic.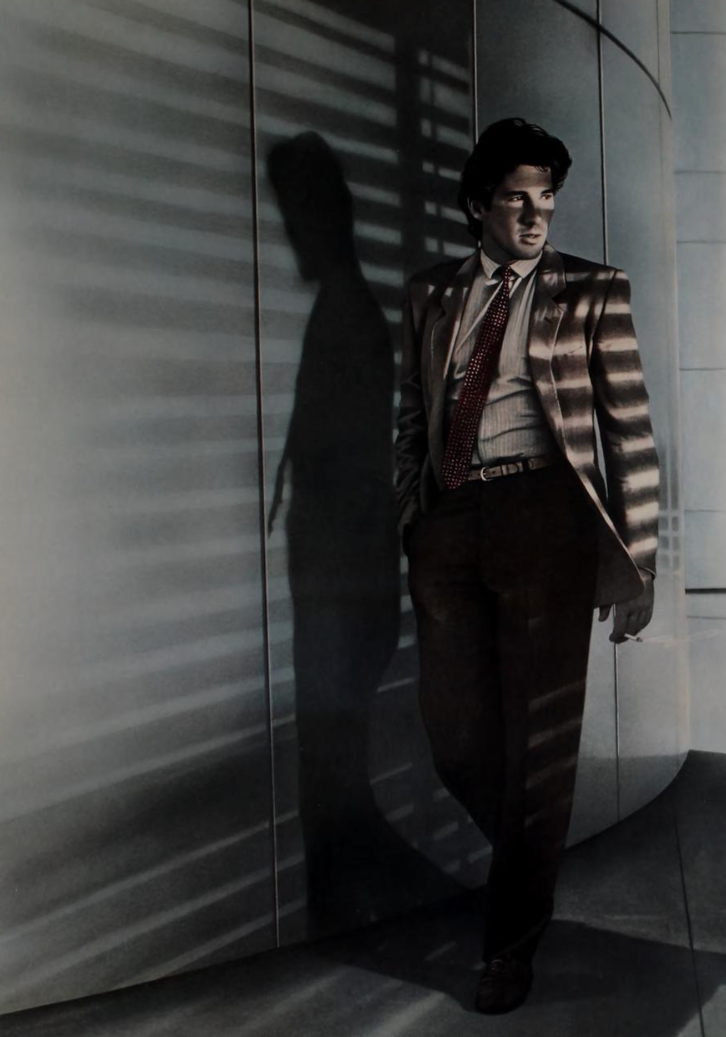 GERE, Richard, act. SCHRADER, Paul, réal. American Gigolo. 1980. 117 min.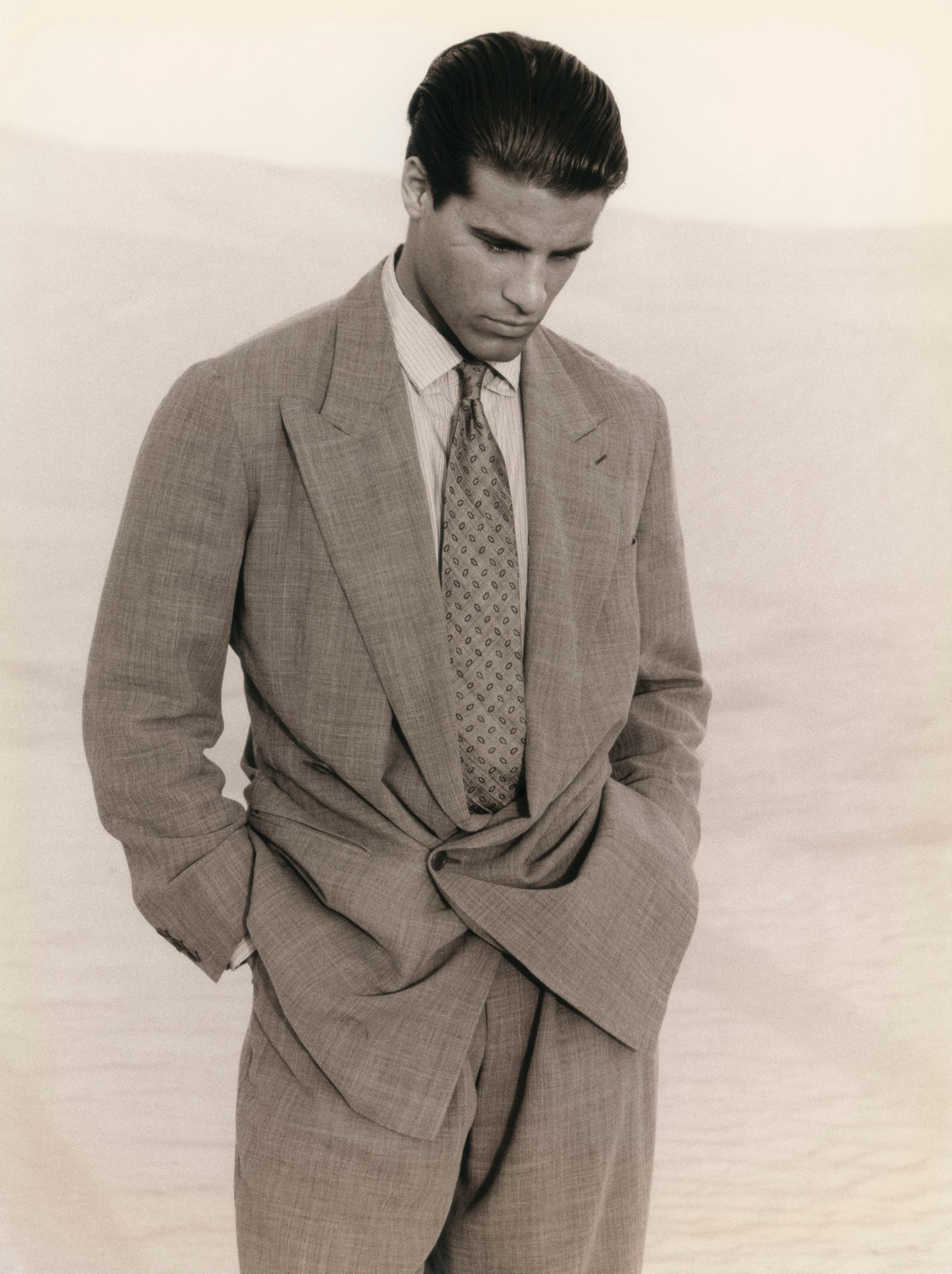 FALLAI, Aldo, phot. Collection Armani, printemps été 1981. Milan. 1981.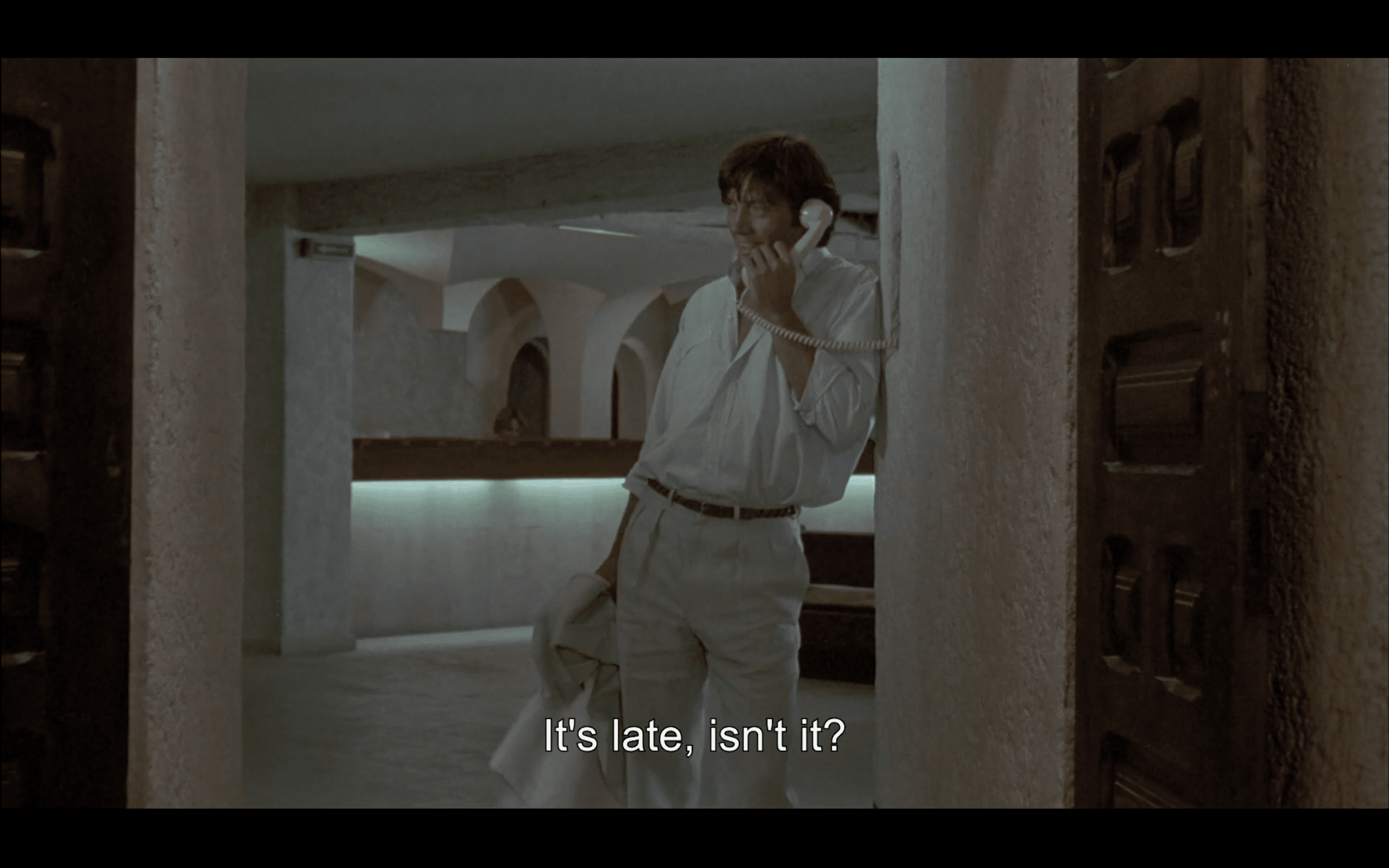 GIRAUDEAU, Bernard, act. FRANCK, Christopher, réal. L'année des méduses. 1984. 110 min.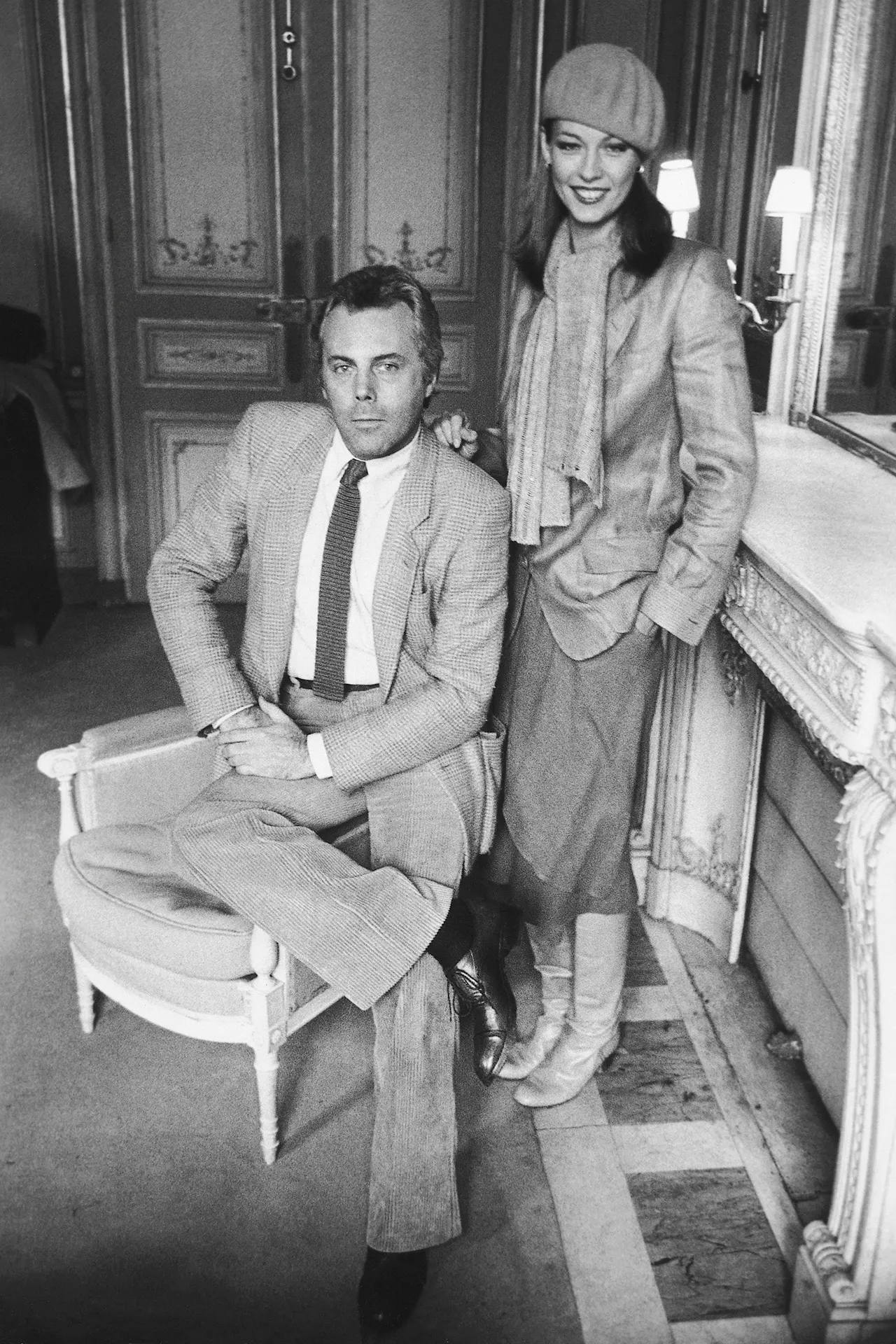 ARMANI, Giorgio. Vogue. Milan. 1979.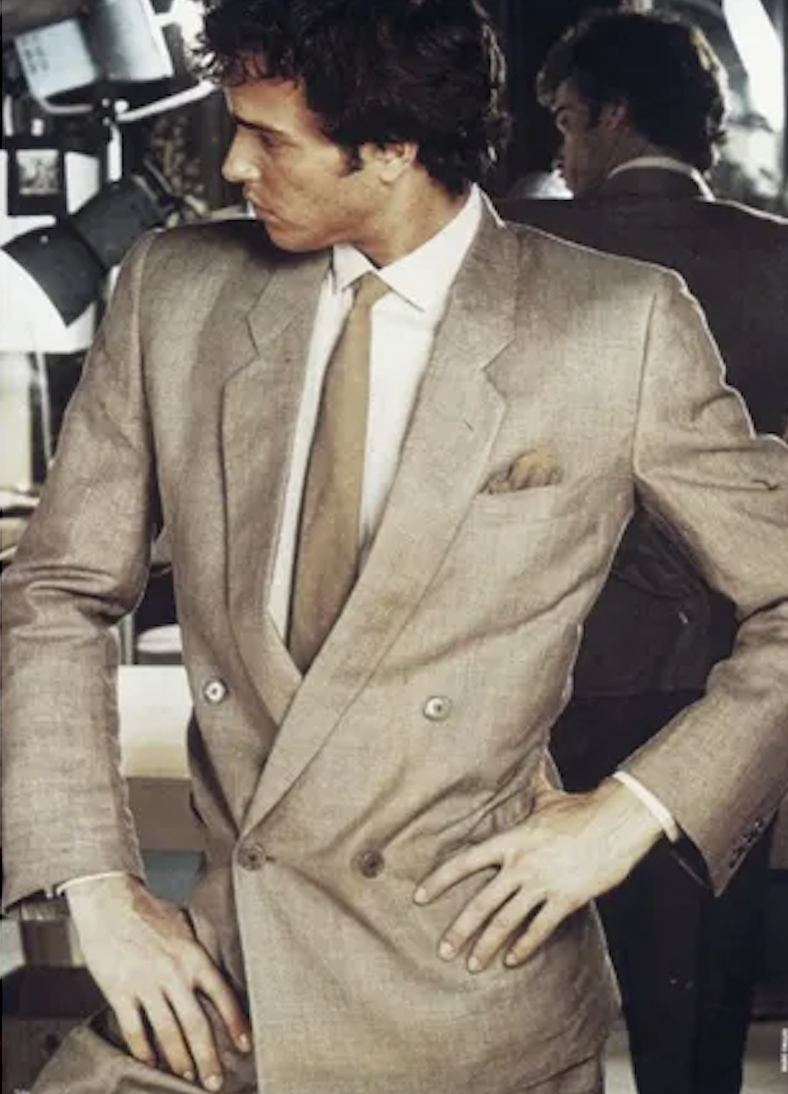 FALLAI, Aldo, phot. Collection Armani, printemps été 79. Milan. 1979.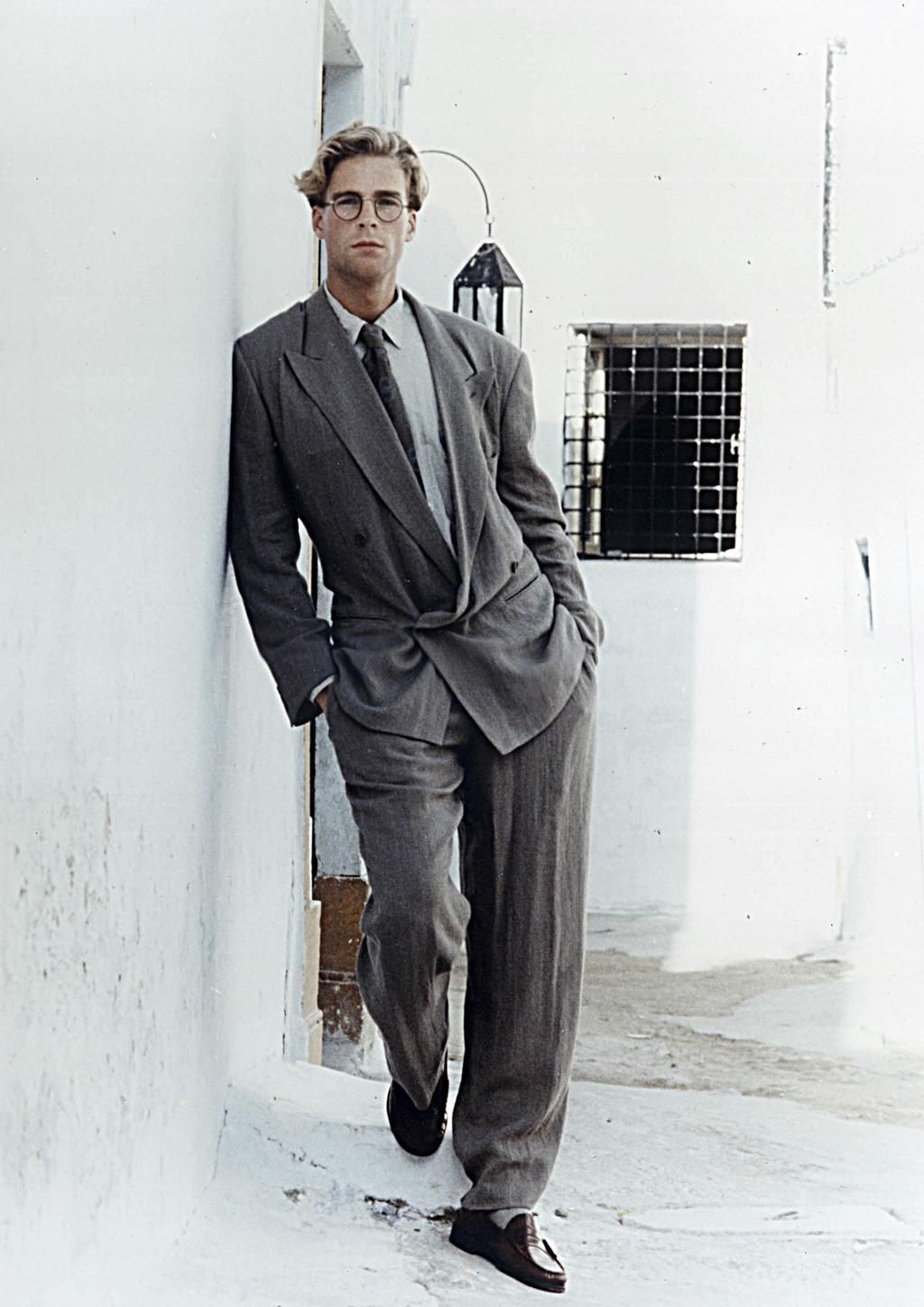 ARMANI CAMPAIGN, Spring-Summer, photo by Getty Image. Greece. 1984.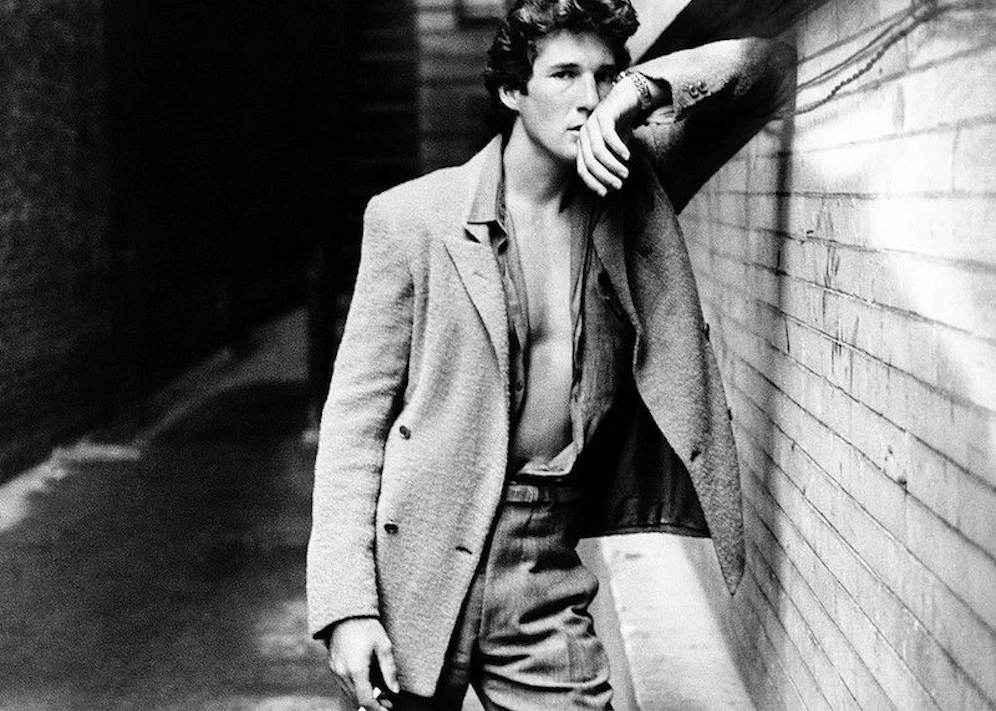 GERE, Richard, act. SCHRADER, Paul, réal. American Gigolo. 1980. 117 min..